Formula 1: Verstappen annoys Ferrari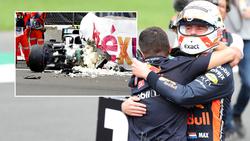 Not the Ferrari favored by their outstanding top speed, but Max Verstappen has secured pole position for the 2019 Grand Prix of Mexico. The Red Bull driver prevailed in a dry session ahead of Charles Leclerc and Sebastian Vettel and is thus only for the second time in his career on the first starting place of a Formula 1 race.
But on the best time The Dutchman still hovers a question mark, because in contrast to the two Ferraris Verstappen pulled through his second round tough. The problem: In the final curve crashed shortly before Valtteri Bottas (Mercedes) in the wall. Despite yellow flags Verstappen drove personal best in the final sector and therefore still has to shake the pole.
---
---
At Red Bull they do not want to see any flags: "He finished his last lap because there were no yellow flags," claims team boss Christian Horner. However, TV pictures show that yellow was waved, and Verstappen himself acknowledges in the press conference that he knew that Bottas had crashed.
Is Ferrari in pole position in the end?
He confidently confesses: "They will cancel my lap time, but the other round was also good." It would actually go to pole, but if there is a run-off penalty, it's gone first.
It's likely that there'll be a penalty. Thus, in the end, Leclerc and Vettel could be the laughing winners. Leclerc had finished second with his first Q3 shot, but could not improve in the second. His luck was that Bottas crashed behind him, causing teammate Vettel to slow down.
"I had a mistake on my first try, so I was pretty confident that I could do better in the second attempt "Vettel explains. "Unfortunately, there were double-swung yellow flags and the lap was lost, but the car was good, I would have liked to be a bit further up, which would have been possible."
Bottas-Crash spoils both Mercedes's lap
Bad luck for Mercedes: The accident at Bottas also affected team-mate Lewis Hamilton, who drove an absolute best time in the second sector but could not finish his lap either. The Briton tackles the race – subject to the possible Verstappen penalty – from fourth place, Bottas was only sixth, two thousandths of a second behind Alexander Albon (Red Bull) after the first attempt.
"Maybe the third Space is still possible, but I'm happy with the day overall because it was difficult to keep up with the others, "says Hamilton. "We knew it would be a difficult weekend for us, I gave everything and it was not enough for the pole position."
The midfield led McLaren to Mexico once again: Carlos Sainz was named Seventh faster than team-mate Lando Norris. Behind them, Toro Rosso of Daniil Kwjat and Pierre Gasly, who have been strong for the entire weekend, have been classified. The latter was struggling with a gastrointestinal infection, which had made a participation in qualifying in advance questionable.
Nico Hulkenberg this time did not move into Q3, but had already hinted in advance that he was free tire choice for the Race preferred. The Renault driver was twelfth, just behind local hero Sergio Pérez (Racing Point), but half a tenth of a second ahead of team-mate Daniel Ricciardo. Kimi Räikkönen and Antonio Giovinazzi (both Alfa Romeo) were 14th and 15th.
Bitter from Mexican fans' point of view: Pérez only missed 0.008 seconds on Pierre Gasly's top 10 time.
Low points for Haas and Kubica
Already in Q1 Lance Stroll (Racing Point / "no grip"), the two Haas and the two Williams drivers were eliminated. Haas boss Günther Steiner shook his head in disbelief in the face of two and a half seconds backlog (despite Ferrari power). Romain Grosjean had already expected runner-up 26 and 27 in advance and put down a turn in turn 1.
Even in my first quick lap, I knew it was not good, "says the Frenchman after 18th. There is no explanation for what happened between the practice and the qualifying. "
Great for George Russell (Williams): He also won the 18th season qualifying against Robert Kubica , 4 seconds behind the team-mate.
The race on the Hermanos Rodriguez autodromo starts on Sunday at 20:10 CET.