Usain Bolt mixes up Oktoberfest marquee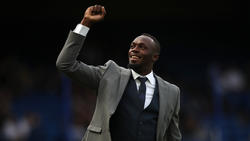 Former world-class sprinter Usain Bolt paid a visit to the Bavarian capital, Munich. More precisely: the Oktoberfest. There, the Jamaican mixed up the marquee.
The 33-year-old, already known as a great entertainer, suddenly stood on stage in the Schützen-Festzelt on Friday evening and tore the visitors with him. "Usain Bolt, Usain Bolt," the fans chanted after his instructions.
"I love you, I have such a good time every time I'm here," Bolt thanked the audience. After that, he agreed to the Queen's hit "We Are the Champions."
Bolt was already on the popular fair this past Tuesday. Among other things, he met with the team doctor of the German football record champion FC Bayern, Hans-Wilhelm Müller-Wohlfahrt, "who treated the eight-time Olympic champion during Bolts active time several times.