Formula 1: Kevin Magnussen asserts: "feel bad"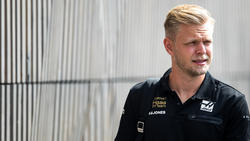 Formula One has ambitious goals and wants to become more environmentally friendly. Details of Liberty Media's climate initiative have been announced in recent days. CO2 emissions are to be drastically reduced in the coming years. The pilots welcome this move after Lewis Hamilton has already been in charge of environmental and climate protection.
The world champion has promoted awareness of the climate crisis, especially on social media, with greater sensitivity and attention. "I just follow my wife and dad," Kevin Magnussen answers Hamilton's contributions. Although he was not inspired by the British, he is not averse to the topic.
Hamilton, however, accuses him of hypocrisy – as Fernando Alonso once did. The Mercedes driver has indeed sold his private jet, but he continues to fly with rented jets around the globe, criticized Magnussen. I do not think it's very eco-friendly when renting a plane. "
" Flying Shame "spreads out in the paddock
Apart from that, the Dane holds little of drawing attention to the climate crisis on social media. "Well, I can not really say that I've changed anything in my behavior, after all, I'm Formula One pilot and every week I fly somewhere else."
Yet, at least, he has consciousness often referred to as "flying ash": "I feel bad about it." According to official calculations by Liberty Media, a hefty 45 percent of total emissions go to the forefront of logistics. A further 27.7 percent is accounted for by business travel.
In a two-stage plan, Formula 1 wants to reduce its footprint to zero by 2030. "I'm not an expert, but I'm really looking forward to seeing what Formula One wants to do and how it will respond in the future, and that should be one of the big issues," Magnussen says.
Grosjean: "The one who speaks the loudest …"
He is aware that the climate crisis will be one of the defining problems of the next decades. "I'm not an expert, but clearly we have a problem there." Therefore, he hopes "that Formula 1 will take a leading role and set a good example."
"It's going to be tricky," team-mate Romain Grosjean knows, counting: "Flying from one country to the next, tires and consume fuel, that's not very environmentally friendly! " He himself owns a private airline and knows about the damaging effects of flying.
Even Grosjean does not fly privately, he points out, pointing Hamilton's finger as well: "The one who speaks the loudest flies too most." In general, he finds the entire discussion laborious: "We put our finger in a wound, Formula One is the complete opposite of environmental protection."