"Madness carries black and yellow"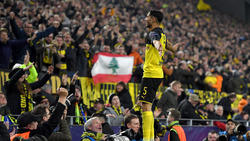 With a wonderful comeback, Borussia Dortmund saved the chance for a Champions League knockout round at a magical European Cup evening. The BVB showed after a 0-2 deficit against Inter Milan a rush of the highest class and won in the madhouse Signal Iduna Park in the end still deserved 3: 2 (0: 2). "The madness carries black and yellow," twinned the euphoric BVB.
Four points from the two duels with FC Barcelona (A, 27.11.) And Slavia Prag (H, 10.12.) Lead safely into the knockout -Round.
"It feels brutally good," goal scorer Julian Brandt said on the "DAZN" microphone: "We all knew how important the game was for us, the reaction was absolute madness, I think we're in development If everything was perfect, it would be a bit boring too. "
Inter started incredibly efficiently. The Argentinian Lautaro Martinez (5), already scorer in the Giuseppe Meazza Stadium two weeks ago (2: 0), fooled with his solo half the Dortmund team. Matias Vecino (40th) scored the nervous BVB, who actually wanted to make a direct comparison, into the marrow.
But then the Borussia took in a fascinating way their hearts in the hand: the strong-beared Achraf Hakimi with the first Dortmunder European Cup home goal (51st) in 328 minutes and Julian Brandt (64th) rewarded the assault, Hakimis 3: 2 (77th) triggered thunderous jubilation in the sold-out stadium.
It was a European Cup moment of triumph should, one of these evenings where everything is possible. Brandt had tinted: "We are Borussia Dortmund! We have beaten quite different." Accordingly, Favre sat on the best start possible with returnees Jadon Sancho and Axel Witsel. Captain Marco Reus, however, was missing, he was not fit after a strike on the left foot in time. Mario Götze played in the storm.
First, however, the traffic jam around the stadium was followed by an icy shower. Manuel Akanji was very clumsy in a header duel, Martinez started by hanging on the right side of Mats Hummels, moved in and also put even Achraf Hakimi and Julian Weigl – 0: 1. For Inter, who put three midfielders in front of a quartet of five, it was the perfect opportunity to catch up and wait.
BVB shoot after the restart
For BVB, there was only one penalty Way: forward. The Dortmund ran with verve against the Italian stronghold. If Brandt, Götze or Thorgan Hazard had played two, three or four opponents, the next ones were already on their feet. Nevertheless, Götze opened the chance to equalize after passing through Hakimi (18.) – he failed on good goalkeeper Samir Handanovic from eleven meters.
The BVB defense, however, wobbled. Between defensive and offensive was not the first time a clear difference in quality. Marcelo Brozovic almost used it (20 ') and central defense was again only escort: Romelu Lukaku was offside in his post (23'). For a long time, the connection between defense and attack only worked in forward gear.
BVB, however, reared up before the break. Sancho (45.) and Hazard (45. + 2) were unhappy, only Hakimi rewarded bearish BVB-minutes in which Witsel (53) and Hazard (62) were almost compensated. Inter had to shake vigorously, was under constant pressure, did not take place.
The BVB, however, had woken up – then came center striker Paco Alcacer after a long injury back. Seconds later, he put the fire 2-2 on. The stadium became a witch's cauldron when Hakimi met for a deserved lead.
"It's a football night, as people love it, which gives us tailwind for Saturday," said Dortmund's managing director Hans-Joachim Watzke on TV Transmitter "Sky". "It was a crazy game but very nice," coach Favre told DAZN.