Racism scandal in Verona: Mario Balotelli stoppages game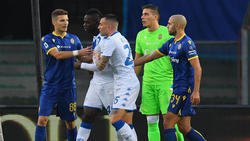 Former Italian footballer Mario Balotelli has once again become the victim of racist insults. In the first-leg match of his club Brescia Calcio at Hellas Verona (1: 2) on Sunday threatened the eccentric forward shortly before the 60th minute of the game to leave the field.
Balotelli took the ball in the hand and shot him in the block of Verona fans. Angry, he pointed to his ears – a sign that he had heard insulting. He ran behind the opponent's goal and threatened to break off the game.
His teammates and some Verona players tried to reassure him. The game was interrupted for a few minutes and then continued with Balotelli from the square.
Verona coach Ivan Juric, on the other hand, did not want to hear anything. "Nothing happened today, no racist chants, nothing at all," he told Sky Sports: "Racist abuse repels me, I'm always called a dirty gypsy, but today there was nothing, not even a bit, nothing. To say otherwise is a lie. "
Monkey lutes in the Italian stadiums are heard again and again, sanctions have hardly existed so far. The Italian association recently announced "zero tolerance" in racist insults.